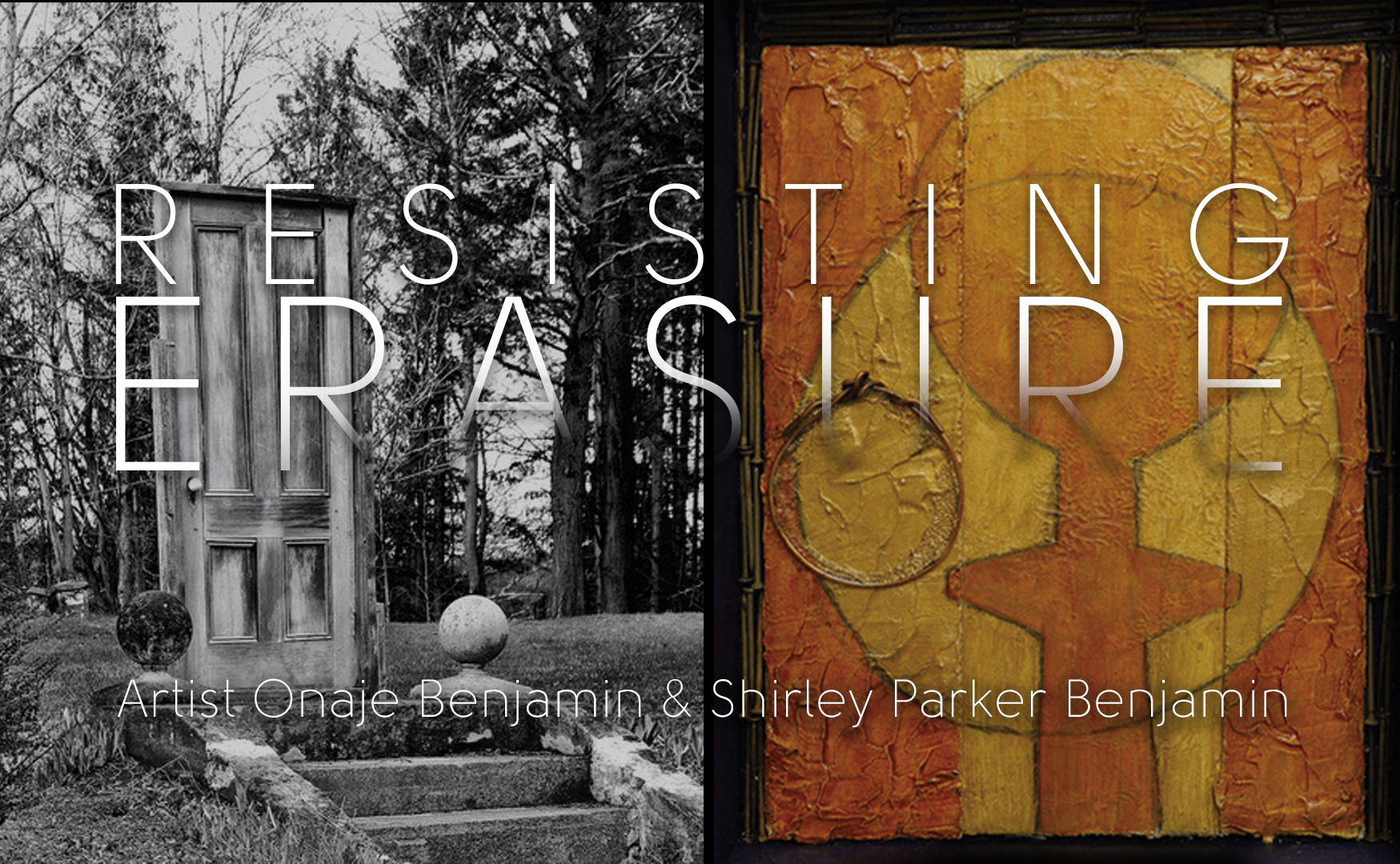 Resisting Erasure (Exhibit Opening)
1:00-5:00 pm (featuring a talk with the artists at 4:00 pm)
GWI Greenhouse, 65 St. James St., Kingston, NY 12401
Exhibit on view during weekday business hours and 1-5 pm on 2nd Saturdays from June 11th - October 8th.
Resisting Erasure (Exhibit Opening)
Engage with the artwork of Shirley Parker-Benjamin and Onaje Benjamin and join them in exploring our own imaginations to envision and express resistance to erasure.
bell hooks: "To be truly visionary we have to root our imagination in our concrete reality while simultaneously imagining possibilities beyond that reality."
Each of us has a story to tell, from our own unique view and experiences. But in our culture, some narratives are actively elevated while others are erased. Visual artists Shirley Parker-Benjamin and Onaje Benjamin have been resisting that erasure, liberating their imagination about whose stories matter and asking us to do the same. Their creative work and lived experiences have led both to be highly attuned to legacies of oppression, how they manifest in injustices today, and what a more just world would look like.
Shirley Parker-Benjamin's mixed media, sculpture, and textile works draw inspiration from the traditions of her African ancestry and bring our attention to lack of representation in both process (Black women's creative expression) and outcome (images of Black beauty).
Onaje Benjamin's photographs help us see how resources accumulate and are distributed, highlight visual clues of inequality, and celebrate urban communities in the Mahicantuck (Hudson) Valley.
Their work will be on display at GWI's Greenhouse (65 St. James St., Kingston, NY) from June 11th through October 8th. From 1-5 pm on the second Saturday of each month, there will be opportunities to view and actively engage with their work, to participate in hands-on "Respond + Create" art making, or to register for GWI-facilitated events. Registration is only required for the GWI-facilitated workshops and reception bulleted below.
ABOUT THE ARTISTS
Shirley Parker-Benjamin is an interdisciplinary artist creating across the genres of sculptural mixed media, assemblage and installation. Her work has been exhibited regionally and internationally. In her work, she explores the intersection between ancestral, spiritual, metaphysical, African/African diasporic traditions and the feminine. Her materials include found objects, natural materials, metal, minerals and beadwork to convey her ideas. Shirley Parker-Benjamin is a high priestess emeritus in the Ministry of Maat. Her studio, Ezili Arts is located in the Cunneen Hackett Arts Center in Poughkeepsie, New York.
Onaje Benjamin's photography reflects a passion for social justice and activism. His images capture urban settings and the cultural and artistic tensions which evolve in these rapidly changing environments. His work ranges from images of street taggers and murals, to portraits of street people and the structural and architectural evolution which symbolizes gentrification and the uprooting of disenfranchised communities.
Exhibit on view during weekday business hours and 1-5 pm these Saturdays:
June 11th: Opening with artists' talk (4 pm)
July 9th: Artists lead "Respond + Create" workshop (4 pm)
Just Transition Primer: details & registration here
GWI Network Reception: details & registration here
August 13th: Open invitation to "Respond + Create"
Reality / Possibility: Exploring Cognitive Dissonance and Collective Resonance: details & registration here
September 10th: Open invitation to "Respond + Create"
October 8th: Closing "Respond + Create" community exhibit and sound healing with Ben Brown (4 pm)
---
This project is made possible with funds from the Statewide Community Regrants Program, a regrant program of the New York State Council on the Arts with the support of the Office of the Governor and the New York State Legislature and administered by Arts Mid-Hudson.
And we want to acknowledge and thank the following sponsors for their support! Upstate Films, Bailey Pottery, Blue-Byrd's and the Hinds family.
COVID POLICY
We are monitoring COVID carefully to make sure our guidelines are keeping everyone safe.
We will not be checking vaccination status.
While indoors, we ask that you wear a mask. We want to protect those in the community who might be at-risk or immune-compromised.