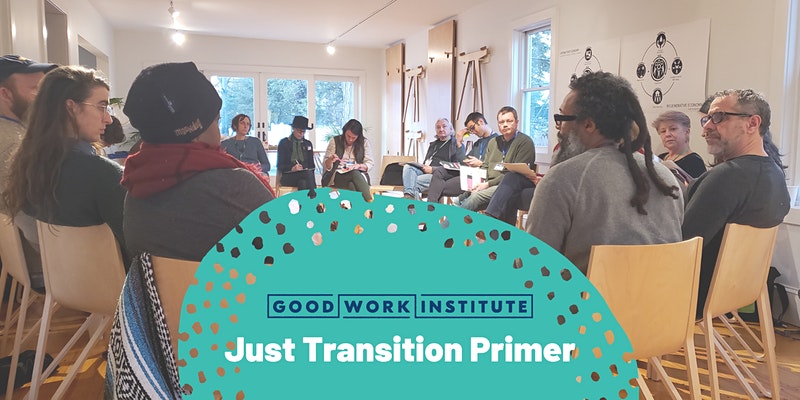 GWI Greenhouse, 65 St. James St., Kingston, NY 12401
1-3 pm Just Transition Primer workshop
3-5 pm Optional: Reception, plus "Respond + Create" with artists Shirley Parker-Benjamin and Onaje Benjamin
Let's come together IN PERSON to align understanding and action in support of effective, collective responses to the moment we are living in.
Our entrenched political divides are laced with conflict and create a sense of insecurity. No longer in the eye of the pandemic storm, we continue to navigate the uncertainty of a landscape in which soaring housing prices have displaced community members and extreme weather conditions are becoming the norm. How do we make sense of these realities? Where can we glimpse the kind of possibility worth coming together to work for? This workshop provides an opportunity to connect, explore a shared vision of Just Transition, and consider the question: What will it take to build systems centered on care for each other and our shared home? What would it mean for many of us in the Mahicantuck (Hudson) Valley to be focused on social and ecological well-being?
Join us for our first in-person workshop since 2020! In community, you will deepen your understanding of the Just Transition framework, principles and practices. Through video, reflection, story sharing, and small group discussion, you will:
See people from across the country describing aspects of Just Transition
Hear how other participants respond to the framework
Connect your own experience to extractive and regenerative economic paradigms
Gain a sense of the framework, principles and practices, and where they come from
Discuss ways you are drawn toward weaving one or more Just Transition principles and practices into your Good Work
Following this workshop, you are invited to stay from 3-5 pm for a reception to connect with others in the GWI Network, including the opportunity to participate in a "Respond + Create" art-making workshop led by Shirley Parker-Benjamin and Onaje Benjamin, the artists featured in the Resisting Erasure exhibition at the GWI Greenhouse.
Facilitators
This offering will be co-facilitated by a combination of these GWI Workers, whose fuller bios are available here.
Micah (he/him) is of mixed race (black and white) and mixed religion, and grew up in two different socio-economic homes. He is a cisgendered, working/middle class parent of two living on Munsee/Lenape land in the Mahicantuck Valley, commonly referred today as Kingston, NY, working to prove possibility and to liberate the imagination in order to see a Just Transition.
Terri (she/her) is a black, cisgendered, working/middle class mother of two, living in Philadelphia, PA (Lenni Lenape land). Through her work, she focuses on relationship and community building, and contributing to greater shared understanding of the Just Transition framework throughout the Hudson (Mahicantuck) Valley.
Susan (she/her) is a white, working/middle class, cisgendered parent who strives to express callings and longings to facilitate learning, support collaboration, organize information, engage conflict, connect across difference, create lasting conditions for greater equity, and contribute toward justice in her communities based in Poughkeepsie, NY (Wappinger-Munsee-Lenape land) and the wider Mahicantuck Valley.
Registration
Deadline:
We will close registration on July 7th.
Fee:
 In lieu of a set registration fee, we are requesting $25 to help underwrite the cost of offering this workshop. GWI does not want your current access to financial resources to impede your participation. We don't know whether your current access to financial resources is ample or limited. We are grateful to receive an offering aligned with what you can give, which may be more or less than $25.