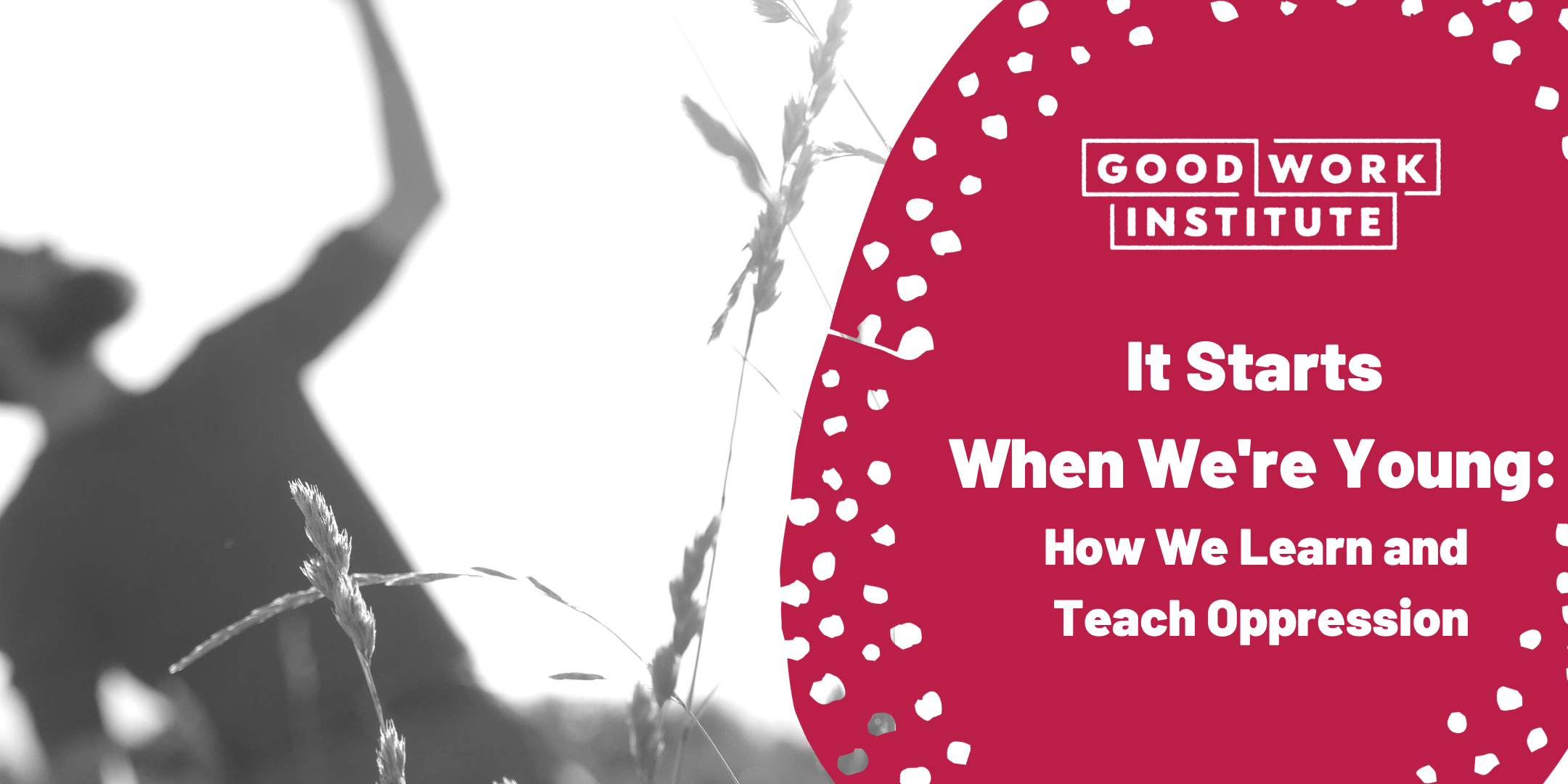 It Starts When We're Young: How We Learn and Teach Oppression (2 of 2)
This workshop consists of 2 sessions:
Tuesday, November 30: 7-9 pm
Tuesday, December 7: 7-9 pm
It Starts When We're Young: How We Learn and Teach Oppression (2 of 2)
Join us to learn about allying with young people and deepen your social equity practice.
About this event
Whether we are parents, caregivers, educators or other youth workers, in our hearts we know that the ways we accompany children as they develop shape so much of what comes after. Perhaps we've not yet been invited to understand how our relationships with young people – including with our younger selves – can transform their and our capacity to practice social equity. Although not always named, or understood by many, adultism is the systematic mistreatment of young people, and the way children are brought into the cycle of oppression. Adultism is a form of oppression that we have all experienced and witnessed. Through reading, presentations, reflection, sharing, presentations, and discussion in this series of two workshops, you will have the opportunity to:
Learn about the cycle of oppression that we enter into when we're young
Recall and re-interpret childhood experiences* through the lens of the cycle of oppression
Explore how adultism is internalized and externalized
Gain insight into how adultism limits our capacity to effectively interrupt oppression as adults
Articulate ways to apply what you've learned to becoming an ally to the young people in your life
* SPECIAL NOTE: Many of us carry trauma from our experiences as children. In these workshops, there will be invitations for reflection and sharing intended to draw out and personalize learning about concepts. However, this is not designed to be a therapeutic experience, and there will not be trained therapists present. We are looking for your partnership in taking care of, and not overextending yourself, which includes attending to your needs, boundaries and safety, and knowing that there is always a choice in how much you choose to share in this kind of context. If you anticipate this topic may trigger childhood trauma, we invite you to consider if this is the right time to participate in these workshops.
Facilitators
Eduardo González, Jr. (he/him/his) is an Afro-Boricua, middle-class, cisgender, heterosexual man and father of two young children currenly living in what is historically Lenape territory currently known as the Bronx. Mr. González is a Cornell Certified Diversity Professional/Advanced Practitioner with over 25 years of experience working with a wide variety of not-for-profit and educational institutions to implement and sustain multicultural organizational development initiatives. A key area of his focus is assisting staff, managers, administrators and their respective organizations in developing the awareness and skills needed to support and/or provide leadership in organizational change efforts on Diversity, Equity and Inclusion. He is the Assistant Director of Diversity, Equity and Inclusion at Cornell Cooperative Extension and holds a Bachelor's in Human Services and a Master's in Public Administration from Pace University.
Maryellen Whittington-Couse (she/her) is a white, middle class, woman and mother who directs a regional Migrant Education Program at SUNY New Paltz that serves the children of migrant farmworkers. She has been part of the Opening Doors anti-oppression facilitation team since 2001 that provides training nationally and internationally. She provides consultation and training to educational, medical, human services and community organizations on issues related to Diversity, Equity and Inclusion. She has a Master's of International Administration from the School for International Training and is a Cornell Certified Diversity Professional.
Registration
Deadline:
We limit the number of participants in this interactive workshop, and encourage you to register early to save your spot! We will close registration by or before November 22, 2021.
Fee:
GWI does not want your current access to financial resources to impede your participation. We don't know whether your current access to financial resources is ample or limited, so we make different fee options available for these workshops. We are grateful to receive an offering aligned with what you can give, which may be more or less than the amount we are requesting to help underwrite the cost of offering this workshop. Please select only one ticket type per person upon registering.
Amount requested: $45 The registration fee reflects discounts made possible by the generous support of our donors. The full cost of the workshop is $90.
Sliding scale: $20 - $90 If your current access to financial resources is limited, please consider paying less than the registration fee. If your current access to financial resources is ample, please consider paying more toward the full cost of the workshop and helping underwrite costs for fellow participants.
Scholarships: If the low end of the sliding scale is still out of reach, we have a limited number of scholarships available, with priority given to residents of the Mahicantuck (Hudson) Valley. Apply here email Micah ([email protected]) if you would like to speak to someone first.
Donations: We welcome donations to help provide discounts and scholarships for Good Work Institute programs. Email Hélène Lesterlin ([email protected]) if you would like more information before considering a donation.