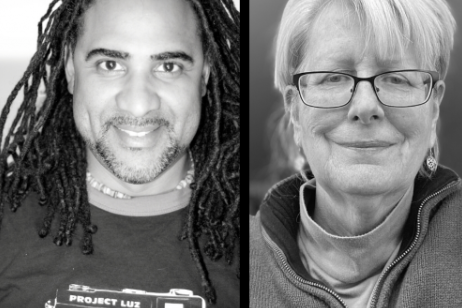 Hosted by Susan & Aja
The increased transparency of racialized police brutality and many other identity-based injustices is awakening – for some of us, Eduardo reminds us. Others of us have been living with these injustices as part of our daily reality. These times reveal that we often live in different worlds separated by systems of social domination. And because it's so familiar, we're good at operating in a domination paradigm. If we're willing to bring our full selves and shine a light on who and how we are, and the toxicity we've inherited, can we create a liberatory process together? Yes, according to Eduardo and Maryellen after twenty years of working together. Starting with a common language, framework and understanding, they have facilitated dialogue that allows us to stick with each other in the midst of the discomfort of truth about the past and present and emerge with a deep understanding of our interconnectedness, a commitment to our individual and collective liberation, and strategies and skills to coalesce across our differences to overcome the status quo of domination and live into a vision of partnership.
Websites: Developing a Social Equity Practice (GWI online retreat facilitated by Eduardo and Maryellen June 4-6, 2021); Opening Doors (updated website under development)
Eduardo González, Jr. (he/him/his) is an Afro-Boricua, middle-class, cisgender, heterosexual man and father of two young children currenly living in what is historically Lenape territory currently known as the Bronx. Mr. González is a Cornell Certified Diversity Professional/Advanced Practitioner with over 25 years of experience working with a wide variety of not-for-profit and educational institutions to implement and sustain multicultural organizational development initiatives. A key area of his focus is assisting staff, managers, administrators and their respective organizations in developing the awareness and skills needed to support and/or provide leadership in organizational change efforts on Diversity, Equity and Inclusion. He is the Cornell Cooperative Extension system-wide specialist for Diversity, Equity and Inclusion and holds a Bachelor's in Human Services and a Master's in Public Administration from Pace University.
Maryellen Whittington-Couse (she/her) is a white, middle class, woman and mother who directs a regional Migrant Education Program at SUNY New Paltz that serves the children of migrant farmworkers. She has been part of the Opening Doors anti-oppression facilitation team since 2001 that provides training nationally and internationally. She provides consultation and training to educational, medical, human services and community organizations on issues related to Diversity, Equity and Inclusion. She has a Master's of International Administration from the School for International Training and is a Cornell Certified Diversity Professional.