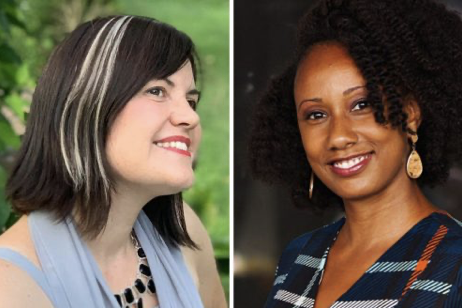 Hosted by Susan & Micah
How do we sustain efforts for the earth, the land, our neighbors? Whether looking to align purpose and values, to decolonize and generate the kind of commitment needed to center the leadership of those most affected, to energize volunteers, or to strengthen ideas, sharing leadership and power is key. Rather than build on the foundations that created problems, building solutions grounded in new structures can make those solutions durable. Caroline and Shaniqua draw on their respective shared leadership journeys, offering responses for those who assume it is too hard, and sharing tips on easy first steps to take.
Websites: For Earth Day, check out the work of kingstonlandtrust.org and support their Spring Appeal; explore a flexible approach to shared leadership at sociocracyforall.org; see what dcpaa.org and mothersoutfront.org are up to
Shaniqua Bowden, the Culture and Community Engagement Captain at the Kingston Land Trust, is a 7-year Kingston resident who first fell in love with green space as a kid in her hometown of South Boston, Virginia. She later moved to New York City where she studied communications and liberal arts at Empire State College. She's a proud mom and active entrepreneur dedicated to ensuring Kingston is a well-rounded community and has come to KLT to assist in their mission of sharing public land access to all. Other community projects she's worked on include Black History Month Kingston, My Kingston Kids and a weekly radio show called the Nubian Cafe.
Caroline Fenner is a middle school English teacher who, after 13 years of living and working in the New York City area, moved to Poughkeepsie in 2012 to have two children and live in the beautiful Hudson Valley. In 2016, Caroline became involved in local activism and the progressive movement. She helped form the Dutchess County Progressive Action Alliance in order to inspire and mobilize the people of Dutchess County towards sustained political activism in order to promote progressive agendas at all levels of government.