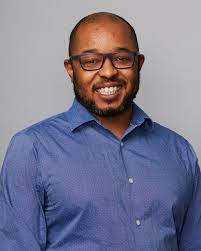 Terri and Helene welcome Kwame Holmes to this episode of the Good Work Hour. Kwame's Good Work is expressed through many channels. One is through the Kingston Housing Lab, a project which, in his position as a scholar-in-residence at Bard College, Kwame and students have geocoded and collected information on hundreds of properties in Kingston's Midtown section. Through KHL, data is emerging about the role of corporate ownership in the local property market, the impact of Airbnbs and other vacation rental sites on the rental market, and the realities of gentrification.
In addition to his work focused on the Kingston housing market, Kwame provides leadership to the Bard Baccalaureate program (BardBac), a full-scholarship pathway for adults to complete bachelor's degrees from Bard College.
Kwame Holmes is scholar-in-residence in the human rights program at Bard College. He has worked at the intersection of academic and community activism throughout his career and, since moving to Kingston, is working to transform the public discourse on housing justice through the Kingston Housing Lab.
bac.bard.edu