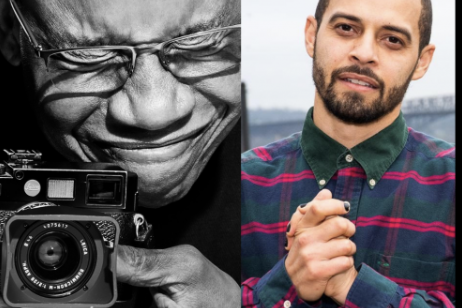 The Black Liberation Freedom Fellowship was created by Rise Up Kingston to support cisgendered Black men in confronting hetero-patriarchy and racism, how it shows up in them and within our community in an effort to combat sexism, trans misogyny and anti-LGBTQ+ attitudes/actions. Barry Mayo and Tyler Epps talk with co-hosts Terri and Micah about their experience as BLFF fellows and how this work, which is grounded in the work of Black feminist writer bell hooks, continues to be a transformative force in their lives.
Applications for the next Black Liberation Freedom Fellowship cohort will go live soon. For more info, you can contact Tyler (info below.)
After a successful 35-year career as a radio broadcasting programmer, manager, owner, and CEO, Barry Mayo is a photographer whose work has been exhibited in various galleries, predominantly in the Chicago area, including a group exhibition at the Museum of Contemporary Art. Barry has served on the boards of numerous educational institutions including serving as the Vice-Chair of the World of Money.org; an organization that teaches financial education and philanthropy to young people in the New York City metro area. Mayo also served for 12 years on the Board of Trustees of Columbia College Chicago. Currently, Mayo serves on the board of Kingston's Reher Center and is the co-President of the Board at the Center for Photography at Woodstock.
Tyler Epps works as Food Justice and Black Liberation Freedom Fellowship Coordinator for Rise Up Kingston. As a father of triplets, an artist, an athlete, a creator, and many things that are still being defined, Tyler is passionate about passion, community, and action. A lot of his focus is to be an active part of creating the reality that he wishes for his sons to live in.
Tyler Epps: [email protected]
Rise Up Kingston: https://riseupkingston.org/
Instagram: @blacklibfellowship