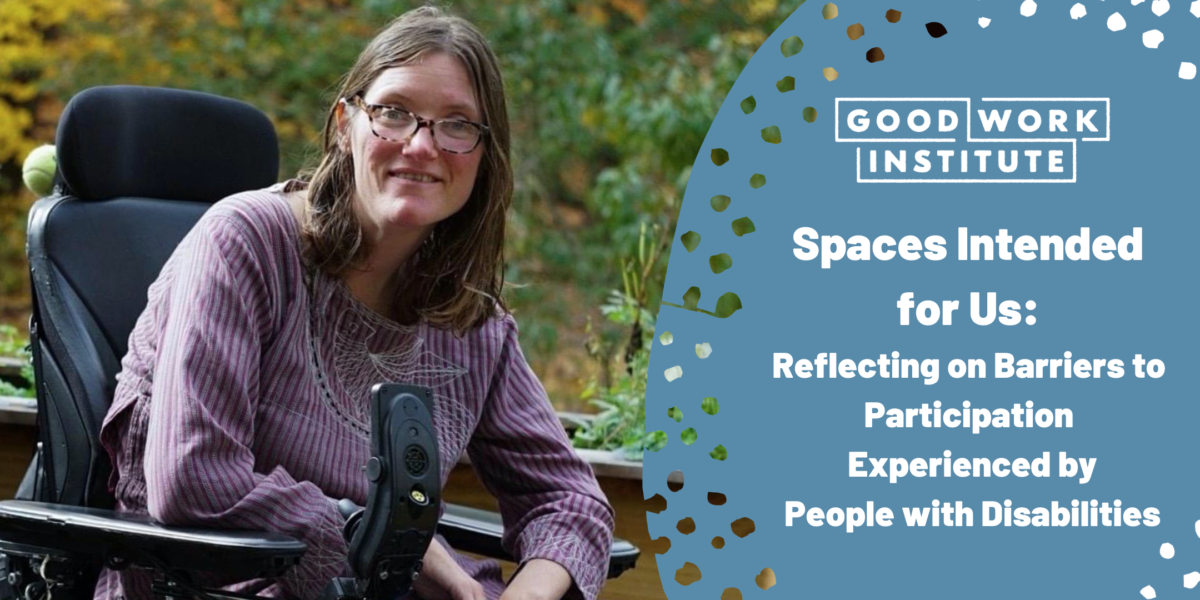 Spaces Intended for Us: Reflecting on Barriers to Participation
Spaces Intended for Us: Reflecting on Barriers to Participation
A personalized online exploration of motivation and means to attend to social equity in the spaces we create in our work and lives
About this Event
What does accessibility look like? Do we take into account folks who may have physical limitations when we are creating our spaces? In Spaces Intended for Us: Reflecting on Barriers to Participation Experienced by People with Disabilities, guest presenter Sage Jobsis, co-founder of ThriveHV, shares her experience navigating life with Multiple Sclerosis – how having MS changed her view of the world as well as the way the world views her.
There is a vast difference between stating that your institution or organization is "welcome to all" versus "this space is intended for you." The former lets people know anyone can come through the doors, but it doesn't necessarily mean that the principles, policies or mission will be inclusive to them. The latter clearly states that if someone does come into the space, there was attention and intention in its creation to take into account the needs of the array of human identities too often relegated to the margins, whether Latinx, Black or other people of color; LGBTQ+; people with accessibility needs; immigrants; elders; etc.
This online workshop will braid strands of mindfulness; particular media, fiction, and—most importantly—personal stories; and reflections prompted by these stories and by questions on your own experiences. This weave of considering the universal aspects of narrative, focusing our attention in the present moment, and tuning into our thoughts and questions, will spur our exploration and dialogue of what is; what it could mean to create spaces intended for all of us; and what it would mean for our own good work to commit to taking action to get there.
This offering is one in a monthly series of online workshops featuring story curators and tellers from different marginalized groups sharing their personal stories in order to provoke listeners to ask "what changes can I make within my life, communities and organizations to truly make the spaces created intended for all?"
Facilitators
Julie Novak (she/her), co-founder of TMI Project, and Micah (he/him), worker trustee of the Good Work Institute will support facilitation of this offering, which will feature stories selected and told by:
Sage Jobsis (she/her) co-founded Thrive HV in 2019, knowing that the Hudson Valley is an incredible place to live; wanting to make sure that everyone, no matter their physical ability, can enjoy it; and striving to engage people to work together to help transform communities and improve the lives of people with disabilities.
Registration
Deadline:
We limit the number of participants in this intimate workshop, and encourage you to register early to save your spot! Registration closes March 24th.
Fee:
In lieu of a set registration fee, we are requesting $25 to help underwrite the cost of offering this workshop. GWI does not want your current access to financial resources to impede your participation. We don't know whether your current access to financial resources is ample or limited. We are grateful to receive an offering aligned with what you can give, which may be more or less than $25. Please select only one ticket type per person upon registering. If you are registering more than one person, please register each one individually .