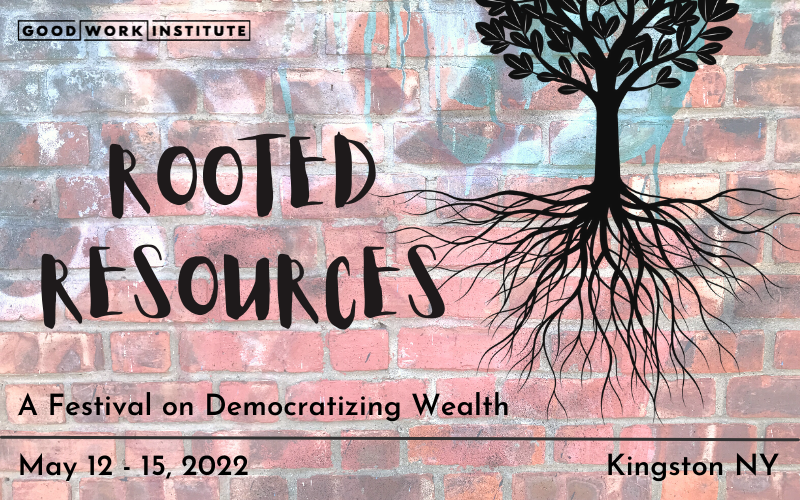 Rooted Resources Festival
Thurs: Online Kickoff; Fri: Bethany Hall @ the Old Dutch Church; Sat: Big Bubble parking lot + GWI Greenhouse; Sun: Big Bubble parking lot
Thursday, May 12th: 6:00-7:30pm - (online) Welcome and Orientation
Friday, May 13th: 7:00-9:00pm - (in-person) Festival Kick-off @ Bethany Hall/Old Dutch Church, Kingston
Saturday, May 14th: 10:00am-4pm - (in-person) All-Day Festival (Topic-focused sessions, pop-up "Health is Wealth" clinic, food, art, music) @ Big Bubble parking lot, 718 Broadway, Kingston + 5pm Celebratory Reception @ the Greenhouse, 65 St. James St., Kingston
Sunday, May 15th: 10:00am-1:30 pm - (in-person) "Stories of the Future: Envisioning Pathways to Local Economic Power" (interactive workshop/closing session) @ Big Bubble parking lot, 718 Broadway, Kingston 
Rooted Resources Festival
Rooted Resources is a weekend festival that shines a light on localizing economic power to nurture solidarity, awareness, and action.
Democratizing wealth, communities, and work is one of the principles of Just Transition that we want to uplift in our places. Through this gathering we offer a platform to learn from each other, connect with ideas and initiatives, and facilitate the hard and powerful conversations that come with looking at how we might better share resources to shift from individual survival to collective thriving.
We will ask big questions to reimagine money and shared resources:
How might we understand money differently, democratize wealth, and see new ways to engage in exchanges that benefit our communities and all life?
What happens when we allow ourselves to explore the commons, land as wealth, cooperatives, community funds, local currencies, and exchange rooted in reciprocity and collective prosperity?
With activists, entrepreneurs, storytellers, community builders, and explorers as our guides, we will gather to learn from the projects underway to create stable, dynamic, just abundance in our communities. We also face the real fact that there is trauma around money, and we'll bring forward ways to heal, to move away from the scarcity that global capitalism imbeds in us. Lastly, we will celebrate the creativity inherent in all of us and take the opportunity to be together in-person!
Registration
Deadline:
We will close registration on May 11th. Register early to secure your spot!