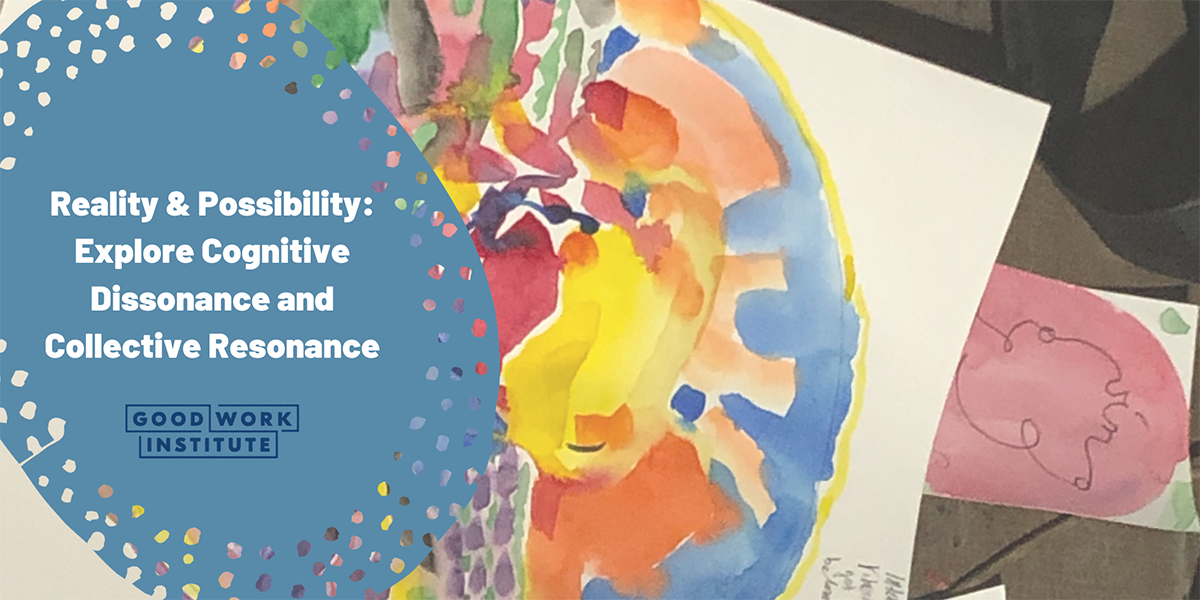 Reality & Possibility: Exploring Cognitive Dissonance & Collective Resonance
Reality & Possibility: Exploring Cognitive Dissonance & Collective Resonance
As the end of the year approaches, we invite you to join us online to deepen with Just Transition, exploring how dissonance affects us and resonance opens up possibilities.
About this event
This workshop is an opportunity for reflective engagement with the ideas of Just Transition. We are invited to bravely face the discomfort of cognitive dissonance as we recognize misalignment between our actions and our ideals. This honest look increases our awareness of the impacts of living under systems of extraction. We will examine what cognitive dissonance means, how it shows up in our lives, and how it stands in the way of the regenerative world we desire. From a grounded place, the workshop invites us to tap into our own sources of creativity and access more energy to envision shared pathways toward collective action.
This was an incredibly generative and meaningful workshop. From setting the tone and intentions of our time together, through the embodiment practices, to the opportunities to share in large and small groups, the facilitators held and inspired space for self-connection, community connection and radical imagination. Thank you so much. This workshop felt like a gift. ~Julie S.
During this workshop, you will be invited to explore:
Mindfulness and embodied presence
The meaning and symptoms of cognitive dissonance through the Just Transition framework
Noticing and sharing examples of how cognitive dissonance manifests in your life
Solo imaginings of possibility, change, alignment, regeneration, resonance

Note: Have on hand any tools that support your creativity! Examples include, but aren't limited to: pen and paper, musical instruments, pastels, crayons, markers, pipe cleaners, clay, yoga mat, etc.

Collective inspiration and ideas for ways forward
The quality of light by which we scrutinize our lives has direct bearing upon the product which we live, and upon the changes which we hope to bring about through those lives. ~Audre Lorde
Another world is not only possible, she is on her way. On a quiet day, I can hear her breathing. ~Arundhati Roy
Facilitators
This offering will be co-facilitated by a combination of these GWI Workers, whose fuller bios are available  here.
Micah (he/him) is of mixed race (black and white) and mixed religion, and grew up in two different socio-economic homes. He is a cisgendered, working/middle class parent of two living on Munsee/Lenape land in the Mahicantuck Valley, commonly referred today as Kingston, NY, working to prove possibility and to liberate the imagination in order to see a Just Transition.
Terri (she/her) is a black, cisgendered, working/middle class mother of two, living in Philadelphia, PA (Lenni Lenape land). Through her work, she focuses on relationship and community building, and contributing to greater shared understanding of the Just Transition framework throughout the Hudson (Mahicantuck) Valley.
Susan (she/her) is a white, working/middle class, cisgendered parent who strives to express callings and longings to facilitate learning, support collaboration, organize information, engage conflict, connect across difference, create lasting conditions for greater equity, and contribute toward justice in her communities based in Poughkeepsie, NY (Wappinger-Munsee-Lenape land) and the wider Mahicantuck Valley.
Registration
Deadline:
December 7, 2022
Fee:
In lieu of a set registration fee, we are requesting $40 to help underwrite the cost of offering this workshop. GWI does not want your current access to financial resources to impede your participation. We don't know whether your current access to financial resources is ample or limited. We are grateful to receive an offering aligned with what you can give, which may be more or less than $40.