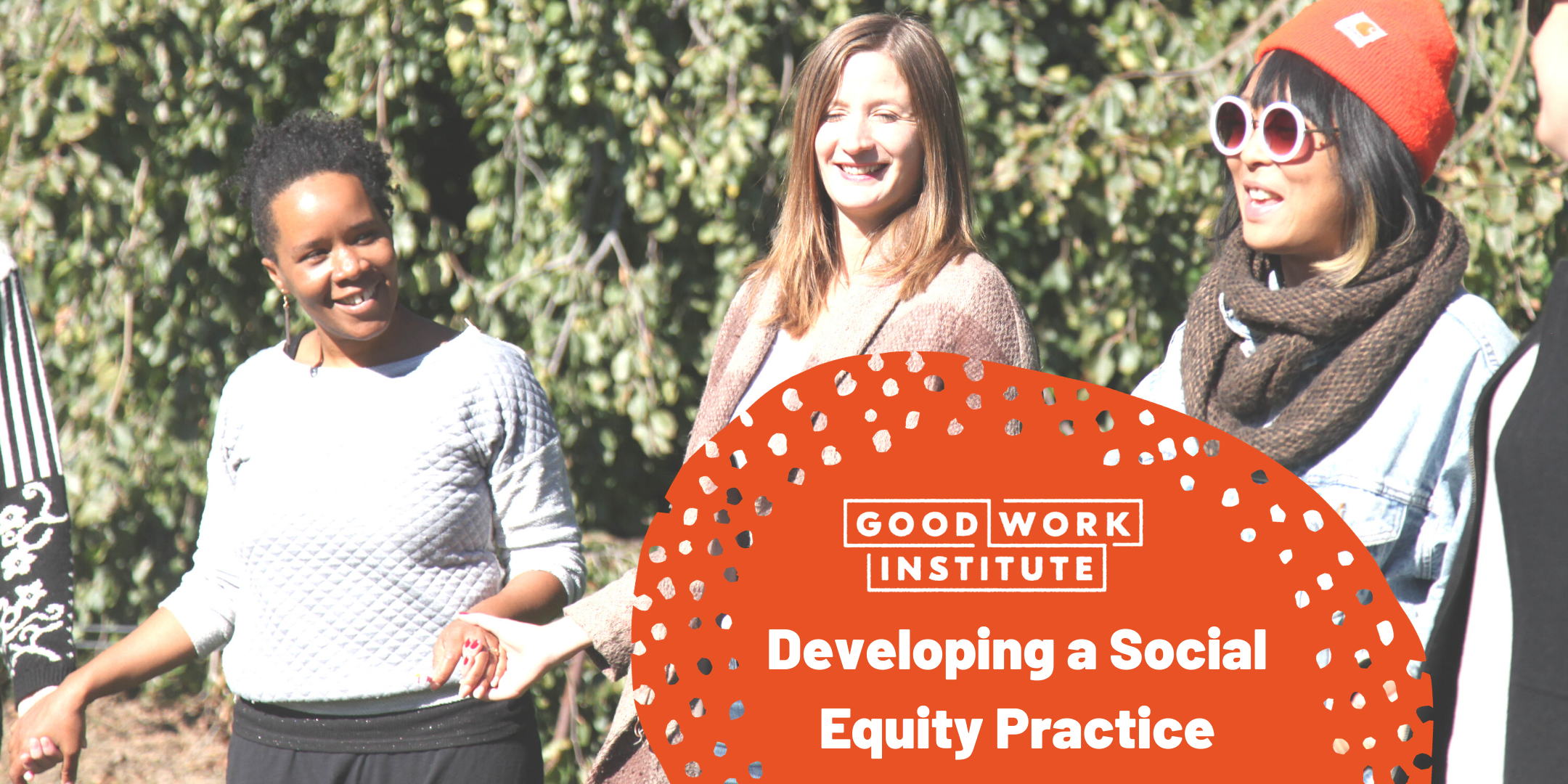 Developing a Social Equity Practice
June 4, 2021 - June 6, 2021
Friday, June 4: 6:30 PM – 8:30 PM
Saturday, June 5: 9:00 AM – 8:30 PM, with 4 hours of breaks spread throughout the day
Sunday, June 6: 9:00 AM – 11:30 AM
Developing a Social Equity Practice
Do you want to be engaged as an ally and empowered as a partner in creating social equity? Here's support for moving forward.
*Note: There are sliding scale and scholarship options, details below.*
Over the course of this online weekend retreat, you will be invited to grapple with power, privilege and difference, develop a social equity practice you can integrate into your Good Work, and emerge with a clear framework to facilitate individual and organizational awareness of changes needed, ways to work toward them, and next steps to take. The workshop draws on a framework that was offered to two cohorts of GWI Fellows and thousands of others over the past 20 years and honed by a dedicated team of facilitators, including the two who will guide the weekend. The experiences each of us brings to this workshop will be honored as we are invited to share our wisdom and gain from the wisdom of others — wherever we are on our lifelong learning journey towards achieving social equity.
Through readings before the retreat, and presentations, story sharing, discussions, exercises, and videos during it, you will:
Develop a deeper understanding of social equity through a personal identity lens
Integrate a framework and common language for addressing issues of power, privilege, and difference
Examine how institutional and individual practices maintain inequities among people and prevent us from achieving our full potential
Build a community of learners committed to identifying and implementing practical strategies for creating collective change
Facilitators
Eduardo González, Jr. (he/him/his) is an Afro-Boricua, middle-class, cisgender, heterosexual man and father of two young children currenly living in what is historically Lenape territory currently known as the Bronx. Mr. González is a Cornell Certified Diversity Professional/Advanced Practitioner with over 25 years of experience working with a wide variety of not-for-profit and educational institutions to implement and sustain multicultural organizational development initiatives. A key area of his focus is assisting staff, managers, administrators and their respective organizations in developing the awareness and skills needed to support and/or provide leadership in organizational change efforts on Diversity, Equity and Inclusion. He is the Cornell Cooperative Extension system-wide specialist for Diversity, Equity and Inclusion and holds a Bachelor's in Human Services and a Master's in Public Administration from Pace University.
Maryellen Whittington-Couse (she/her) is a white, middle class, woman and mother who directs a regional Migrant Education Program at SUNY New Paltz that serves the children of migrant farmworkers. She has been part of the Opening Doors anti-oppression facilitation team since 2001 that provides training nationally and internationally. She provides consultation and training to educational, medical, human services and community organizations on issues related to Diversity, Equity and Inclusion. She has a Master's of International Administration from the School for International Training and is a Cornell Certified Diversity Professional.
This offering will be supported by GWI Workers.
Registration
Deadline:
We are opening registration to the first 25 participants and closing it by or before May 21, 2021. Register early to save your spot!
Fee:
Your registration fee covers online workshop facilitation and materials.
Amount requested: $350 – The registration fee reflects discounts made possible by the generous support of our donors. The full cost of the workshop is $425.
Sliding scale: $275 – $425 – If your current access to financial resources is limited, please consider paying less than the registration fee. If your current access to financial resources is ample, please consider paying more toward the full cost of the workshop and helping underwrite costs for fellow participants.
Scholarships: If the low end of the sliding scale is still out of reach, we have a limited number of scholarships available, with priority given to residents of the Mahicantuck (Hudson) Valley. Apply here or email Micah at [email protected]
Donations: We welcome donations to help provide discounts and scholarships for Good Work Institute programs. Please email Hélène Lesterlin ([email protected]) if you would like more information before considering a donation.