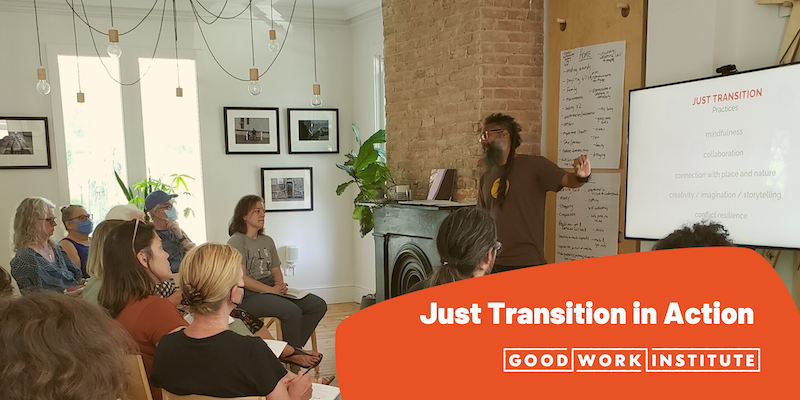 Just Transition in Action
The Vassar Barns, 50 Vassar Farm Lane, Poughkeepsie, NY 12603
10am - 4pm, with lunch provided
Just Transition in Action
Along with ON PAR (Arlington Partners Against Racism) and Partners for Climate Action Hudson Valley, we invite you to Poughkeepsie to join with others working toward environmental and social justice for a day of experiential learning about Just Transition and ways we can move toward a regenerative economy.
Perhaps you've heard about Just Transition but wonder: What does that really mean? What would it look like on the ground, in our region? How do we do it? This workshop facilitates a community of co-learners to explore what Just Transition means in our heads and our hearts, and to generate energy and ideas for how we can take action to help move much-needed changes forward. As those who work on social justice and those who work on climate/environmental justice learn and share a meal together, we come into closer relationships and communication with one another, expanding who we know and exploring shared values in a learning community. The opportunity to share our perspectives and support each other to deepen our understanding in connecting ways makes this the kind of learning experience that stays with you. Here's a comment on the workshop from a past participant:
A workshop to wake up to the depth and breadth of the shifts happening, and what to look out for. – Sarah V.
Through interactive exercises, reflection, discussion, hands-on creativity, movement-based activities, inspiring examples, and compelling media, you will experience:
How resources and work are combined to realize contrasting purposes in extractive and regenerative economies
Stories of existing alternatives and possible futures that can liberate our imaginations
Insight into ways we can move from where we are to the future we are committed to
A sense of how we can involve ourselves in working toward change
Space to clarify your role and commit to one or more next steps in contributing to Just Transition
Accountability to yourself and your action intentions beyond the time we spend together in the workshop
Facilitators
This GWI offering will be co-facilitated by a combination of these GWI Workers, whose fuller bios are available here.
Micah (he/him) is of mixed race (black and white) and mixed religion, and grew up in two different socio-economic homes. He is a cisgendered, working/middle class parent of two living on Munsee/Lenape land in the Mahicantuck Valley, commonly referred today as Kingston, NY, working to prove possibility and to liberate the imagination in order to see a Just Transition.
Susan (she/her) is a white, working/middle class, cisgendered parent who strives to express callings and longings to facilitate learning, support collaboration, organize information, engage conflict, connect across difference, create lasting conditions for greater equity, and contribute toward justice in her communities based in Poughkeepsie, NY (Wappinger-Munsee-Lenape land) and the wider Mahicantuck Valley.
Registration
Deadline:
We are opening registration to the first 20 participants and closing it by or before noon on June 5, 2023. Register early to save your spot!
Fee:
This workshop is offered on a sliding scale with two scholarships available. Registration fees cover workshop facilitation, materials, and lunch, snacks, and beverages.
Amount requested: $75 
The registration fee reflects discounts made possible by the generous support of our donors. The full cost of the workshop is $100.
Sliding scale: $50 - $100
If your current access to financial resources is limited, please consider paying less than the registration fee. If your current access to financial resources is ample, please consider paying more toward the full cost of the workshop and helping underwrite costs for fellow participants. 
Scholarships:
If the low end of the sliding scale is still out of reach, we have a limited number of scholarships available. Apply here or email [email protected] if you would like to speak to someone first.
Donations: 
We welcome donations to help provide discounts and scholarships for Good Work Institute programs.