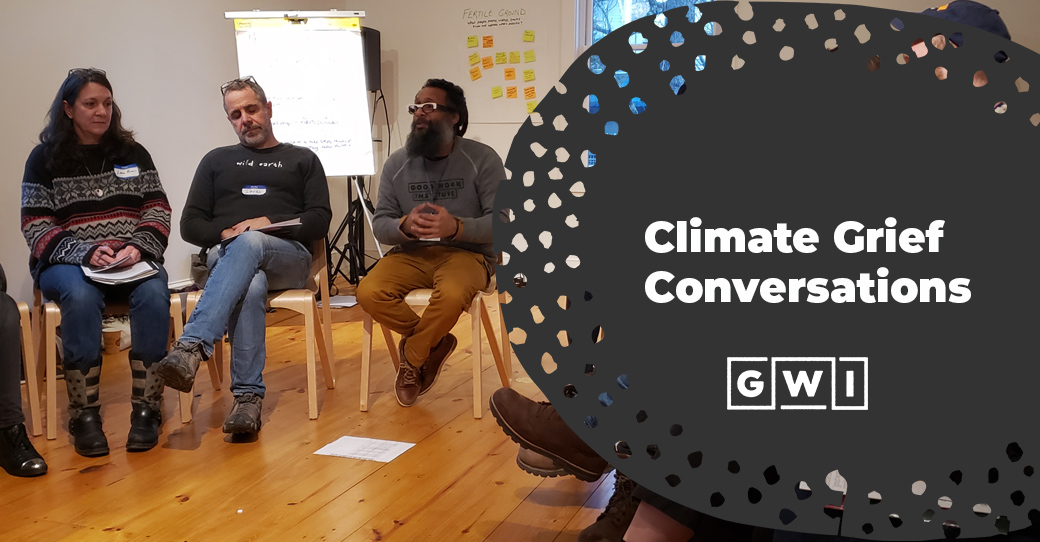 Climate Grief Conversations
GWI Greenhouse, 65 St. James St., Kingston, NY 12401
First Thursdays of the month 6-8pm
Climate Grief Conversations
GWI and Jenny Bates are holding ongoing climate grief conversations. This group will meet on the first Thursdays of the month at The Greenhouse 65 St. James St. on the corner of Clinton street and St. James Street in Uptown Kingston. This group is free and open to anyone who has concerns about the climate, about our City of Kingston, and who are stressed about an uncertain future.

"We are picking up distress signals, as living beings on this planet" – Jenny Bates.

Grief is not easily processed alone. The grief felt, consciously or unconsciously regarding the planet is on a scale previously unknown to our species. This series of conversations is an opportunity to share and verbalize what is felt in the context of group that will be facilitated with care, support and a sense of belonging in a confidential and fully respectful manner.

You can listen to Micah and Jenny speak on The Good Work Hour about this topic.

If you have any question email [email protected] or [email protected]
Facilitators
Jenny Bates is psychotherapist in private practice in Kingston. She has many years of practice in individual and couples' counseling (she is a certified relational life therapist) along with a Shambhala Buddhist practice (a trained meditation instructor and teacher) and years and years of piano playing. 
Micah (he/him) is of mixed race (black and white) and mixed religion, and grew up in two different socio-economic homes. He is a cisgendered, working/middle class parent of two living on Munsee/Lenape land in the Mahicantuck Valley, commonly referred today as Kingston, NY, working to prove possibility and to liberate the imagination in order to see a Just Transition.